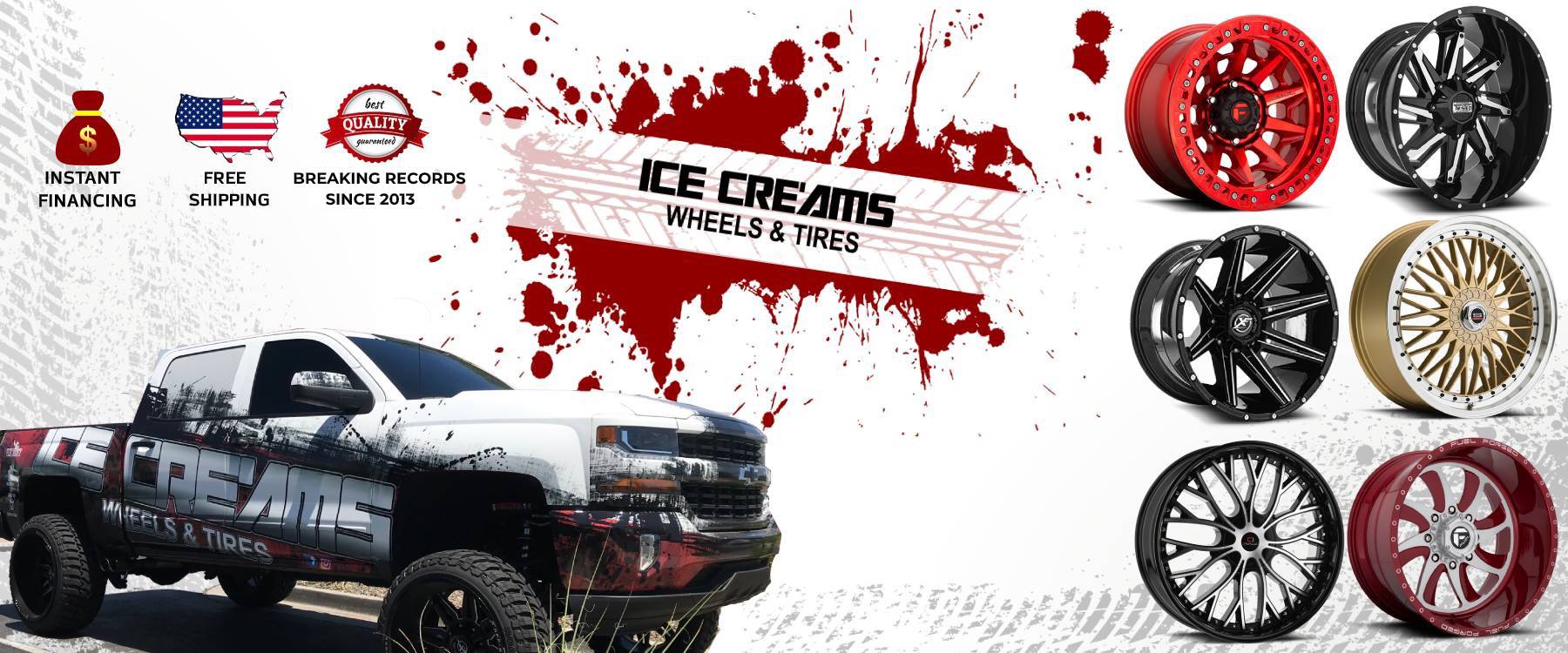 Looking for a better deal?
Contact Us
Get in touch and ask for the best discount offers. We have amazing deals for all the wheels and tires from the leading brands. We guarantee your satisfaction.
Ice Creams Wheels and Tires
Ice Creams Wheels and Tires was Founded in 2013 Under the leadership of Erik Valenzuela, We are a team of automobile enthusiast and wheels & tires experts who are ready to help you at every step from choosing the right wheel and tires, size and offset with fitment guarantee and not only this we offer 24 Hour Mobile Tire Repair Service in Mesa, Arizona.
Call us at 480-352-3786, We immediately rush to offer you our all tire repair services offering the fastest response time and will be there to help you in no time.

We have a wide range of custom wheels and tires packages available for you from all leading international brands. You can explore our online store and buy wheels for your luxury cars, dually, trucks, off-road and racing vehicles, SUVs, ATVs, UTVs etc. at the best price and fitment guaranteed.
Off Road Wheels and Tires | 24 Hour Tire Shop in Arizona | Wheels and Tires Packages Online | Racing Wheels | Luxury Wheels | Off Road Wheels | Tire Shop in Arizona | Wheels Shop in Arizona
Select your Vehicle,
to find your Wheels
Browse Wheels By
Categories
Lift & Drop Kits
Bring Your Vehicle to the Perfect Height
Start Now
Easy Financing
Apply For Instant No Credit Financing
We offer the widest collection of wheels and tire packages in the USA available at affordable prices. At Ice Creams Wheels and Tires, you will find wheels from all major brands like Blade, Azara, Cavallo, Fuel Dually Wheels, Fuel Forged, Fuel One Piece, Fuel Two Piece, Fuel UTV, OE Revolution, Spec-1, Twisted Off-Road, XF Forged, XF Off-Road and tires from brands like GoodYear, Michelin, Continental, Cooper Tires and Pirelli.
Testimonials
What Our Customers Say
"I bought my rims here maybe a year ago and the service was good then. So I came back for a drop kit install and the service was even better. The crew there went above and beyond for me. Awesome service very knowledgeable and answered every question I asked. I will continue to go to them for all my work on my truck. Thanks guys. Much appreciated!!! From Casa grande 💯 "
Francisco Ramirez
"I went here based off the reviews and wasn't disappointed. Front desk Eric (I think his name was) was excellent and great customer service. And offered or showed me what wheels and rims they had in stock to get done that day. When I came back and saw my car with new wheels and rims, I was thrilled and loved it. Thank you so much for your service and great customer service. 💯 "
Lysol Ben
Partners